Scout Cart continues to get glowing reviews from happy customers who love our folding cart design and premium quality. Customer tell us they love how easy it makes grocery shopping. We continue to be suprised by the creative home-to-home uses customers tell us about; such as taking recycling to the chute, picking up dry-cleaning, bringing things in from the car, carrying crafts and party foods, and even shopping with Ruby the pup.
Our Whole Foods Market demo in Annapolis Towne Centre, Maryland, last month was a hit. Many folks stopped by to see the Scout Cart and some took it for a test drive. We now have residents of the neighborhood using the Scout to visit stores, shops and even holiday events.
Resident John Skalstad wrote to say we have an "excellent" product. He also graciously posted the following comment and photo on Facebook. Thank you, Mr. Skalstad!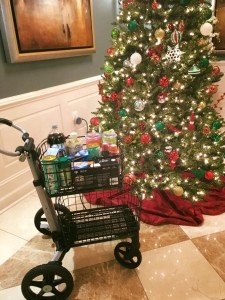 "Got mine last week. It's impressive. Would highly recommend it to anyone who hates waste and carrying bags." J. Skalstad at Grandview, Annapolis Towne Centre