The Scout Cart is one-of-a-kind. It offers a sanitary alternative to public grocery carts, while providing the most convenient shopping experience possible. The Scout makes every trip to the shops a treat.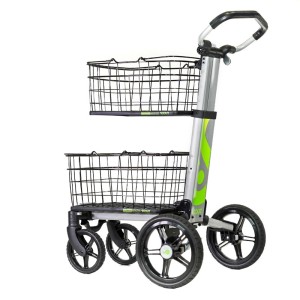 Eco-Friendly Shopping Cart
At Scout Cart, we value sustainable solutions that help preserve the environment. In the face of rising CO2 emissions and pollution, the Scout Cart provides a fresh, green alternative to shopping.
Folding Grocery Cart for City Shopping
Living in the city has its rewards, but convenient shopping isn't always one of them! The Scout Cart lets you take your time roaming the shops, offering a reliable solution that never wears you out.
Adjustable, ergonomic handles

Lightweight aluminum frame

Rubber all-terrain wheels

Machine washable baskets

Kick stand & parking brake