Portable Shopping Cart for Active Seniors
---
When it comes time to do the shopping you won't find a better option than the Scout Cart! The Scout Cart baskets are removable and the frame folds-up for easy storage in your car as you drive to and from the grocery store. If you'd rather walk, you can always count on the Scout's rugged wheels to go the distance.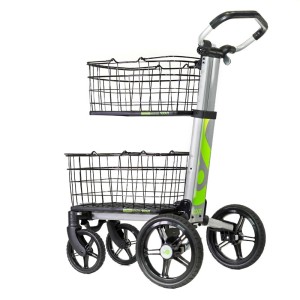 Easy-to-Use Shopping Cart
The Scout features a comfortable handgrip, a fold-up frame, and easy-release buttons. The frame and handle adjust to fit you perfectly, no matter your height. With smooth wheels and a light frame, you'll never get tired of pushing your Scout!
Adjustable Grocery Cart for Seniors
Whether you're living independently or in a community, you always have the option to shop how you want. The Scout Cart makes shopping fun, easy, and rewarding.
Adjustable handle

All-terrain wheels

Washable, hygenic baskets

Parking brake