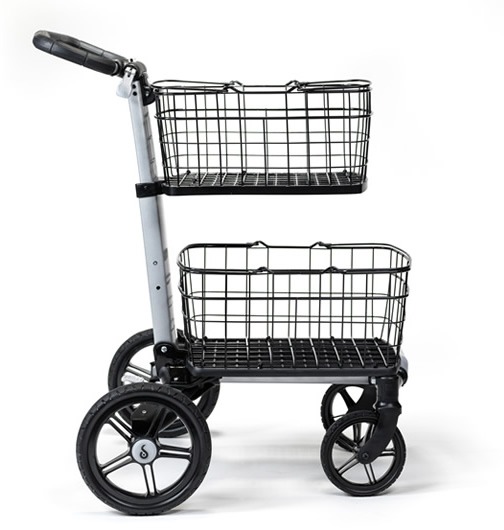 Annapolis, Md. — Kroger's stock gained yesterday on its announcement to evolve the traditional grocery shopping method by adding the Scan, Bag, Go program to 400 stores in 2018.
Scan, Bag, Go lets customers check out items with a handheld scanner as they walk through the store. When finished, the customer can simply pay at a kiosk and go.
The Scout Cart, a personal shopping cart, is designed to complement Scan, Bag, Go-type shopping methods. With the Scout Cart portable cart, customers can scan groceries in the aisle, pack items into their Scout baskets, pay, and roll. In addition to acting as a shopping platform, the Scout Cart provides enough storage for a large shopping trip. Scout Cart's powder-coated steel wire baskets eliminate the need for paper and plastic bag usage.
Ahold stores, including Stop & Shop and Giant Food, have been letting shoppers "Scan It" for more than 10 years. Walmart also has a scan and go program.
More retailers are expected to adopt similar shopping methods that allow customers to scan purchases anywhere in the store and then go — completely eliminating the often frustrating and discouraging practice of lining up to pay at a cash register.
Amazon is experimenting with a grocery store program of its own called Amazon Go. Many independent grocers have adopted similar programs to improve their in-store customer experience.
For more about Scout Cart visit www.scoutcart.com.